Join - Login - Pay Per Clip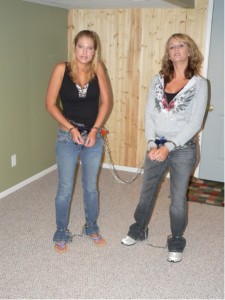 Gotcuffs.com is building a new version of the site.  As we move videos over to the new system they will be removed from this section.  To download this video just click this link to go to the new version of the site.
In this clip Chrystine and Layla are told to put there hands behind there where they are handcuffed behind there back. Next they are shown with there hands still cuffed behind and then I bring transport chains to put on them. I put them on one while the other watches. In the last part of the clip I add a connector chain between the two.
Length: 10 minutes
Size: 173 MB
Format: MP4